What our clients have to say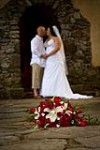 Stacy and Scottie - Wedding Photography Review - July 2015
We had never used a professional photographer before and Kevin was an excellent choice. He did our engagement session along with our wedding ceremony and reception. Kevin went above and beyond for us from day one! He helped us to create an affordable wedding package that included everything we wanted at an affordable price. He made sure that he was aware of any special requests that we had and he also made sure that he was knowledgeable of our expectations. He provided us with an informational packet that was very useful (especially for someone with no knowledge of photography). Kevin was very professional in his interactions with us while working with him and was very flexible with us (My husband and I work a lot and some of the hours we work are odd). The day of the wedding Kevin surprised us with a wedding gift...He surprised me with a second photographer!!! It was a perfect surprise and I could not have been happier with the performance and formality of both of the photographers. We had so many wonderful photographs to choose from when he provided us with the proofs. Kevin made sure that he captured every moment and every single picture that we had requested! We could not be more pleased with his professionalism, performance and the quality of his work. If we ever need a photographer in the future, we would not think twice about who we would call, Kevin will definately be our choice!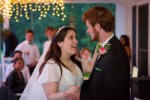 Celeste and Daniel Wedding Photography Review - June 6th, 2015
Hello Kevin! I just received the email with the link to the wedding pictures! They are absolutely beautiful and I couldn't be happier! It's great to look through them and I can't help but laugh and smile because the pictures capture such great emotion in them! Thank you so much! I can't wait to begin working on my wedding scrapbook with these pictures! Thanks again! Sincerely, Celeste McLean
Cheri & Robert - Wedding Photography Review - April 2013
We loved Intimate Image Photography! Our photographer, Kevin, was awesome. When my fiancé and I took our engagement pictures he gave us a quick lesson on what we needed to do so that our photos would turn out the best. His tips were great and our pictures turned out amazing. Kevin was very nice and told us exactly what to do and how to pose. Yet, he still allowed us to have freedom over how we wanted our picture to look. I would absolutely recommend Intimate Images to anyone!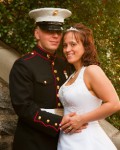 Daisy and Jesse - Wedding Photography Review - February 2011
Hi, I'm Daisy, my husband and I were married in Feb of 2011. Kevin of course was our photographer. We were very pleased at how well he did, it was as though he wasn't there, yet never missed a single photo opportunity. He was very careful to get every picture we requested as well as several more. We opted to get the album as well and once we received it were absolutely amazed at how gorgeous it all came together! He is truly amazing at what he does! Daisy M. Jacksonville, NC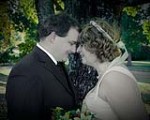 Therese and Chris - Wedding Photography Review - October 2010
I met my now Husband in June of 2009. Within weeks we knew a wedding was in our future. When it became a reality (a RING on my finger), the first thing my Fiance said to me was "I know exactly who will do the photography: Kevin Teague." BEST. DECISION. EVER!!! (except for actually saying "I do!")I waited until I was 40 to get married. I had plans for what I wanted for as long as I remember. We planned it all ourselves. It was small, simple and intimate: exactly what we wanted. But due to my nerves, I don't remember much of the day. The photographs that Kevin from Intimate Images took helped me capture the memories of that special day. The pictures were absolutely stunning. There was not one thing related to the photography that didn't come out fantastic. Kevin was creative, professional, reliable and amazing to work with. I just can't say enough great things about him. I'd 100% recommend him for any events, engagement pictures, weddings, or portraits. Therese Maddox Berry - October 16th 2010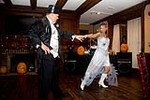 Melissa and Andy - Wedding Photography Review - October 2009
I want to take this opportunity to tell all future brides about the great photographer I had to take my wedding pictures. My husband and I got married at the Mostellar Mansion on October 31st, 2009. Kevin Teague came to our house to talk with my husband (then fiance) and I about the photography services he offered. Since this was my second marriage and my husband's (then fiance) first marriage, and we were having a small wedding we didn't need a huge picture package. Kevin asked how many pictures we thought we wanted and then he came up with a picture package to fit our needs.Kevin met with us again just before the wedding to compile a list of the pictures we wanted taken. He made a list of whom we wanted in each picture and if there were any specific poses we wanted. On the day of our wedding, Kevin had a very precise list of pictures organized to save time so that some pictures were taken before the ceremony. As I went downstairs and around to the back of the mansion I discovered I had left my bridal bouquet upstairs. My 7 year old daughter was my Maid of Honor so I had no one to go get my bouquet.Kevin volunteered and ran upstairs to retrieve the forgotten bouquet. After the ceremony Kevin again had a very organized precise list of pictures to be taken. The pictures were taken quickly and systematically so we could get to our guests and reception as soon as possible. As my new husband and I were starting to help with the "clean-up" I looked around and noticed Kevin was still taking pictures even during the clean-up. My new husband and I knew Kevin was very thorough and professional but we were absolutely stunned by the brilliant pictures and photograph book Kevin provided to us at such a reasonable price. The pictures were awesome. He literally caught every aspect of our wedding. We had hundreds and hundreds of pictures to look at. It was very difficult to choose which pictures were the best. Every picture was perfect. If you looked at the pictures quickly enough, it was like watching a movie of our wedding. Our photograph book had a custom cover to fit out Halloween wedding.The book was able to catch the uniqueness of our wedding and reception and make the memories of this day very special. Also on our first anniversary we got an anniversary card from Kevin in the mail. Kevin is not only our wedding photographer but we consider him our friend.I highly recommend Kevin Teague as a photographer to any future bride and groom. We loved his work so much, we plan to have Kevin take our family portraits after our new baby is born in March 2012.If you want memorable wedding pictures and an excellent wedding photographer.... Kevin Teague is the photographer for the job!! Melissa Berry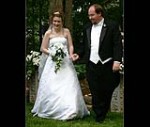 Emily and Aaron - Wedding Photography Review - May 2006
When I hired Kevin Teague to document my wedding, he had never worked a wedding before. I am told he refused several times for fear of not delivering a worthy product for such an important event. I don't remember that. What I remember is knowing a man with talent, extreme dedication to any projects he touched, and an unparalleled work ethic. I wanted him for the job, and like most brides, what was most important to me I got.What I got from Kevin was more than a photographer. I got a calm head in the mist of chaos. I got a professional who saw from above and accomplished not only what I told him I needed but also what I didn't know I needed. I received journalistic documentation of my wedding, giving me a complete and true picture of the entire event. I saw the realistic beauty peppered with candid points of humor that I will cherish always.The best decision I made regarding my wedding was the man I married. The second best was the man who took the pictures. Emily C.Hickory, NC